Arnold School Awards
Jeffrey Keith Mattison Outstanding Student Achievement Award: Isabella Alonso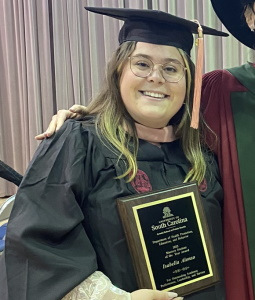 Isabella ("Bella") Alonso graduates in May with her second Arnold School degree, an MPH in Health Promotion, Education, and Behavior (HPEB) following a B.A. in Public Health. Passionate about hands-on learning, Alonso has worked with mentor Edena Guimaraes to assess COVID-19 vaccination hesitancy among Spanish- and Portuguese-speakers in South Carolina and interviewed HIV-positive South Carolinians to understand their experiences with HIV stigma. Together with fellow HPEB student Julia Budiongan, Alonso co-chaired Columbia's first student-run World AIDS Day event. Working with another classmate, Chantal LaFlamme, Alonso co-led an initiative to educate and promote the use of K-N95 masks. She gained additional experience with Good Samaritan Hospital, Jacobi Medical Center, and Ending The Epidemics South Carolina. She spent her free time as an English language tutor at a local elementary school and serving on her department's student engagement and faculty search committees. Her achievements have been recognized with the HPEB Outstanding Master's Student Award.
This summer, Alonso plans to help reconstruct a non-profit organization in the Columbia area by providing support in the areas of outreach and connection to care. After that, she'll be pursuing a position at a local HIV community organization.
This award is presented each year to the master's level graduating student who best exemplifies the special characteristics of Jeffrey Keith Mattison, an epidemiology and biostatistics student who passed away early on during his program. To remember his life, initiative and motivation for work in public health, the Student Public Health Association (now the Dean's Student Advisory Council) created the Jeffrey Keith Mattison Outstanding Student Achievement Award.
---
Doctoral Student Achievement Award: Kyndall Dye-Braumuller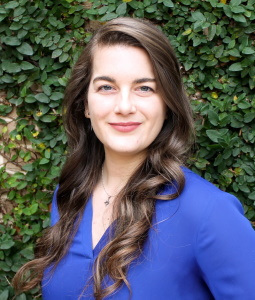 Interested in epidemiology since she learned about disease outbreaks in her seventh-grade science class, Kyndall Dye-Braumuller was working as an entomologist for a local public health department in Houston, Texas when she met fellow-tick hunter and infectious disease researcher, Melissa Nolan. They stayed in touch and Dye-Braumuller enrolled in the Arnold School's Ph.D. in Epidemiology program in 2019 to study with her mentor. Three eventful years later, the Norman J. Arnold Doctoral Fellow has made a lasting impact by working with the Ministry of Health to expand vector surveillance in El Salvador and with DHEC to launch and lead the first tick surveillance program in South Carolina.
Dye-Braumuller graduates in August with 11 peer-reviewed publications (nine as first author), seven technical reports, 34 scientific and community education presentations, and two extramural grant submissions to her name. She is a 2022 Breakthrough Scholar and the 2020 recipient of the Outstanding Student Award from the Mid-Atlantic Mosquito Control Association. She will continue her training as a postdoctoral associate in Nolan's Laboratory of Vector Borne and Zoonotic Diseases.
This award is presented to an outstanding doctoral candidate graduating from the Arnold School. Students are nominated by Arnold School faculty, and selection is based on academic performance and achievements as well as their potential for professional contribution.
---
Departmental Awards
Outstanding M.S. - Residential Student of the Year Award: Jane Stratton
Outstanding M.S. - Distance Education Student of the Year Award: Chari Birklid
Doctoral Student Excellence Award: Maggie Carson
Master's Student Excellence Award: Deja Best
Doctoral Student Service Award: Amar Alrshim
Master's Student Service Award: Ron Willis
Outstanding Epidemiology Doctoral Student: Sabrina Karim
Outstanding Epidemiology Doctoral Student: Amanda Elmore
Outstanding Epidemiology Master's Student Award: Hope Bercaw
Outstanding Biostatistics Doctoral Student Award: Anja Zgodic
Outstanding B.S. in Exercise Science Student: Ana Jukic
Outstanding M.S. in Exercise Science Student: Seth Byland
Outstanding M.S. in Advanced Athletic Training Student: Connor Givens
Outstanding M.S. in Athletic Training Prof Program Student: Erin Watlington
Outstanding Ph.D. in Exercise Science Student: Harry Cintineo
Outstanding Doctor of Physcial Therapy Student: Madeline East
Christopher Peter Aluah Outstanding Doctoral Student Award: Tianyue Mi
Master's Student of the Year Award: Isabella Alonso
Master's Student of the Year Award: Megan Austin
Michael D. Jarrett Award: Chantal LaFlamme
Susie B. Yates Award: Miti Patel
Foster G. McGaw Award: Alyssa Blickensderfer
Foster G. McGaw Award: Bradford Lemmons
Foster G. McGaw Award: Laurel Pulling