July 7, 2023 | Erin Bluvas, bluvase@sc.edu
Exercise science/athletic training associate professor Susan Yeargin has been selected as a Fellow by two of the most prestigious organizations in her field. The American College of Sports Medicine (ACSM) and the National Athletic Trainers' Association (NATA) have both invited Yeargin to join their fellowship ranks.
"I continue to be impressed by Dr. Yeargin's ability to promote the intersection of sports medicine, exercise science and public health," says Shawn Arent, department chair and a Fellow in ACSM. "She is an important and well-respected member of our faculty who upholds the highest standards of research ethics and integrity and actively involves her students in the research process."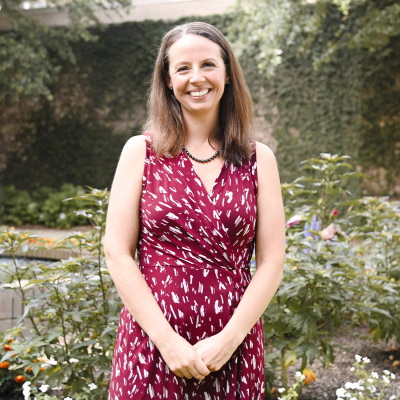 Compassionate care
A key member of the athletic training program, which offers two master's programs, Yeargin has taught eight different courses. She is loved by students, who voted for her to receive the program's Outstanding Faculty Member of the Year Award for the past three years. Yeargin invites them to help her conduct research in her area of expertise: heat illness. Heat illnesses, such as heat stroke, can injure organs and can even cause death among athletes and laborers who perform stressful physical activities in hot environments – often wearing heavy equipment (e.g., football players, marching band members) or protective clothing (e.g., firefighters).
Yeargin became interested in this area during her master's program in kinesiology/exercise science and athletic training at the University of Florida after being introduced to the topic as an undergraduate student at James Madison University. The week before she began her studies at Florida, an undergraduate football player at the university died from heat stroke.
"I watched his sports medicine team grieve in the following months," says Yeargin, who recalls that two other football players (one high school, one professional) also died from heat stroke that same year. "As part of my master's thesis, I started researching ways to prevent and treat exertional heat stroke, so another sports medicine team didn't need to grieve the loss of their athlete."
Yeargin continued studying heat illness during her Ph.D. in Kinesiology program at the University of Connecticut. She began her academic career as an assistant professor at Indiana State University before joining the Arnold School in 2012.
A passion for service
"I like educating athletic trainers and providing evidence-based information to those in the profession who work at all athletic levels," Yeargin says. "Athletic trainers are pre-hospital health care providers who can provide on-site emergency care to athletes as well as many other active populations. We are well-positioned to prevent, recognize and treat heat illnesses, which are consistently in the top five causes of death in athletes."
To date, her 20 years of research experience have resulted in more than 60 peer-reviewed publications on exertional heat illnesses, thermoregulation and hydration behaviors. Her expertise is regularly solicited by media outlets, including US News and World Report and The Washington Post.
Yeargin's knowledge is also sought by professional and scientific organizations, such as the Korey Stringer Institute, where she has been a member of the Medical Advisory Board for over a decade. She serves on NATA's Research Committee and chairs its Pronouncements Committee. Yeargin co-authored heat illness consensus/position statements for NATA and ACSM and was the only author invited to contribute to both. Additional recent honors include two Distinguished Alumni Awards from the University of Connecticut (2022).
"NATA is my professional organization as I started out as a certified athletic trainer before becoming a professor and researcher, and ACSM is an organization that understands the importance of the inter-professional health care approach to sports medicine," Yeargin says. "It's not just the athletic trainer, but also the physician, registered dietitian, and strength and conditioning coach that work together to keep athletes safe. That's why I'm proud to be involved in and receive the distinction of Fellow from both organizations."
You May Also Like