April 28, 2023|Erin Bluvas, bluvase@sc.edu
Adam Bilodeau knew he wanted to be a physical therapist when he had a client he couldn't help. The Bay City, Michigan native was studying exercise science and health fitness at Central Michigan University and working as a strength and conditioning coach when a client was hospitalized due to an illness.
"She came back to me and couldn't lift her arms because she was so weak," Bilodeau says. "I felt helpless because I didn't know what to do, so I referred her to a physical therapist. From then on, I knew I never wanted to not be able to help a client."
As a strength coach, Bilodeau had discovered a love of teaching, programming and educating. He also thrived on developing relationships with clients. Physical therapy promised many of the same benefits, so he began exploring the field.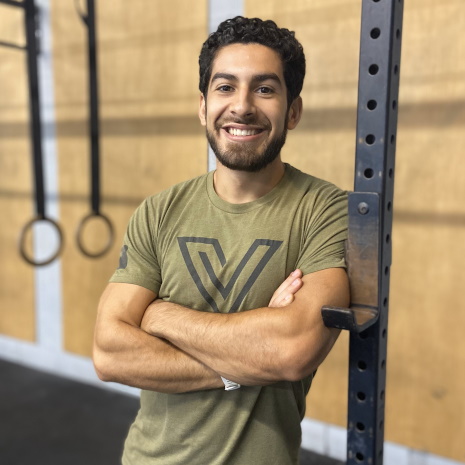 As a capstone prior to his 2019 graduation, Bilodeau accepted an internship at Vertex PT Specialists. Working at the Midlands-based organization was life changing and resulted in a love of the Columbia area.
"That internship opened my eyes to the fact that physical therapy can be performance-driven and you are able to treat people to get them beyond their baseline level of function and fitness," Bilodeau says.
New friendships, warm weather, plenty to do and a beautiful campus confirmed that Bilodeau was in the right place, so he began taking pre-requisite courses for the Department of Exercise Science's Doctor of Physical Therapy program. He quickly found mentors in faculty Elizabeth Regan and Harvey Matthews, whose instruction methods made course content readily applicable outside the classroom.
"What was great about their classes was I was able to take what I learned in class, then go in and apply it working as a coach throughout school," he says. "They both helped me grow as a coach and a physical therapist, and I thank them so much for everything."
As a result of his experiences as a strength coach and in the DPT program (including clinical placements to gain practical experience), Bilodeau developed his own philosophy regarding his work as a physical therapist.
"I adopt a holistic approach in treating every patient I work with," he says. "This means not only will I treat their injury, but look at other aspects of their health, including exercise, sleep, nutrition and stress management."
Using this approach, he plans to pursue a dual role as a physical therapist and strength coach after his August graduation. In the future, he would like to open a performance facility that primarily works with athletes and other active populations.