May 8, 2023 | Erin Bluvas, bluvase@sc.edu
Greenville, South Carolina native Harrison Johnson had everything lined up for a career in acting. He had graduated from Elon University with a Bachelor of Fine Arts degree, made the move to Los Angeles and was working as a personal trainer while he looked for an agent. Then something unexpected happened.
"I quickly fell in love with a specific client population – folks above the age of 65 who just wanted to be able to maintain their activities of daily living, such as getting on and off of the toilet and reaching for kitchen appliances in high cabinets," Johnson says. "That clued me into physical therapy and within the span of a few short months, I had applied to USC."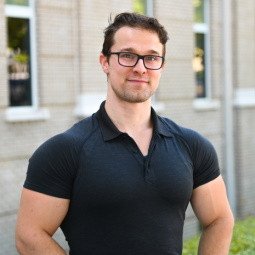 As a student in the Department of Exercise Science's Doctor of Physical Therapy program, Johnson interned at two hospitals and served as a senior teaching assistant for clinical associate professor Erika Blanck in the USC School of Medicine Columbia. He found mentors in all his instructors and discovered his own love of teaching while working with Blanck.
"They all care so much," Johnson says. "Their academic sharpness is only matched by their emotional intelligence. They really showed me what having faculty who cares truly feels like."
With interests in learning more about the brain and central nervous system as well as various types of therapy (e.g., treating chronic pain), Johnson might return to school someday to earn a Ph.D. – at least that's what his parents think. At the moment, however…
"Right now, I just want to work," says Johnson, who graduates in August. "I know I'll probably end up teaching at some point. I think that's a remnant of the actor in me. I love to put on a performance."
In addition to learning all about physical therapy during his program, Johnson discovered some life lessons over the past three years. He says it's important to separate your self-worth from grades, program acceptances, other people' opinions, etc.
"Each of us is a valuable and talented human being, and we need to give ourselves permission to not be the smart one, the funny one, the attractive one, the charismatic one, or whatever," Johnson says. "Take that pressure off and give yourself the humility to assess your resources and ask for help. Your mental health is the foundation of finding the right headspace for pursuing a graduate degree."