June 6, 2023 | Erin Bluvas, bluvase@sc.edu
Megan Morgan has lived her entire life with complete hearing loss in one ear. Since birth, she has been fascinated by how humans communicate – whether deaf or not.
"I grew up interested in helping people with hearing differences and fell in love with speech-language pathology," the Suwanee, Georgia native says.
After studying early childhood education at the University of West Georgia, Morgan gained experience working with kids as an elementary school teacher. She taught first, third and fourth grades in Georgia and North Carolina before landing in South Carolina at Lexington School District One outside of Columbia.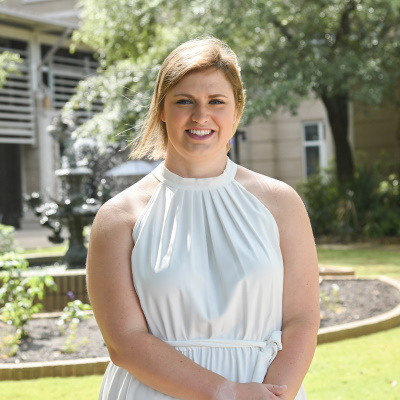 When researching graduate schools, Morgan looked for the best speech-language pathology programs in the nation. She was thrilled to find one of them in her own backyard. Accepted into the Department of Communication Science and Disorders' M.S. in Speech-Language Pathology – Distance Education program, Morgan attended orientation.
"Everyone was so kind and provided all the information I needed to say yes," she recalls.
During her program, Morgan gained clinical experience at the department's Montgomery Speech-Language-Hearing Clinic, learning about aural rehabilitation assessments and interventions. She also worked at a local private clinic and elementary school – confirming her passion for working with children who have hearing loss.
A second personal challenge introduced Morgan to another population she is now passionate about as well. She battled (and beat) thyroid cancer while in the middle of her program, inspiring her to volunteer with speech-language pathologists at Prisma Health as they conducted head and neck cancer screenings. Morgan learned about the challenges these patients face and how to reduce swelling through lymphedema therapy to address their swallowing difficulties (also known as dysphagia).
Throughout this time, the Outstanding Master of Science-Distance Education Award winner maintained a 4.0. Morgan found support in faculty members, who served as both instructors and clinical supervisors.
"Dr. Beth Barnes, Ms. Juliana Miller, and Ms. Murphree-Holden have been amazing mentors and they helped me navigate graduate school while fighting cancer," she says. "They provided me with the best support I could have ever hoped for."
With two populations she is passionate about, Morgan is excited to work with either or both after she graduates in August. Her goal is to support pediatric patients with speech and language as well as patients with head and neck cancer to help them regain the ability to swallow and their quality of life.

Speech-language pathologists work with children and adults who exhibit limitations in the areas of speech, language, literacy and hearing that often impact academic performance, career opportunities and socialization. The Department of Communication Sciences and Disorders offers both residential and distance education paths to becoming a speech-language pathologist.
---

The Montgomery Speech-Language-Hearing Clinic provides quality diagnostic and treatment programs for individuals of all ages with communication disabilities. We provide clients with communication disorders the highest quality and most effective evaluation and treatment in order to improve social, educational and vocational participation.