April 12, 2023 | Erin Bluvas, bluvase@sc.edu
Hala Ghattas already had an interest (and a bachelor's degree) in nutrition when she enrolled in a master's program to further her education in the field. While a student at the London School of Hygiene and Tropical Medicine, she had the opportunity to work on a project in rural Gambia.
"That experience really opened my eyes to the inequities in access to adequate nutrition and health care services and to the social determinants that drive these," says Ghattas, who joined the Department of Health Promotion, Education, and Behavior (HPEB) last fall as an associate professor.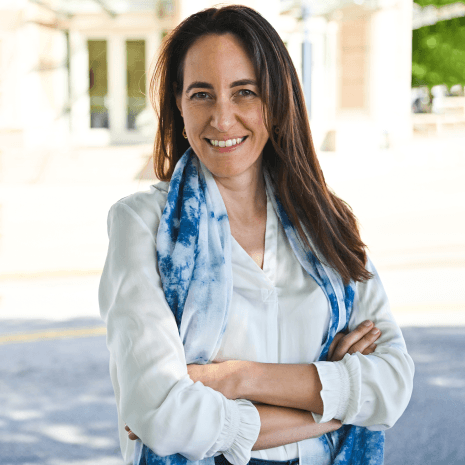 Originally from Lebanon, Ghattas remained in the United Kingdom to complete a doctoral degree, this time in nutrition and immunology from St. George's, University of London. She spent an additional three years as a research fellow at her master's alma mater before returning to the Middle East to accept an assistant professor of community nutrition position at the American University of Beirut.
"This was just after the 2008 global financial crisis and as the seeds of the Arab Spring and the ensuing conflicts and refugee crises were being sown," Ghattas says. "This led me to be increasingly engaged in issues relating to food security and health equity in those most affected by these crises, including marginalized, rural and forcibly displaced populations."
These experiences led Ghattas to develop a research agenda that centers on the links between inequity, food insecurity, malnutrition and poor health – mostly in low- and middle-income countries. She also develops interventions to address these challenges.
For example, Ghattas' team has helped women in refugee camps develop social enterprises, such as community kitchens, where they can serve healthy food to school children living at the camps. This type of intervention leads to improvements in income, mental health and food security for women as well as diet diversity and school attendance for children.
"My aim for my research is to shed light on the social, economic and other structural factors that play a role in determining food insecurity, health and nutritional status of communities," Ghattas says. "I also work to amplify refugee and other marginalized voices in contexts where their rights are often curtailed."
In addition to leading her own research projects, Ghattas led the Center for Research on Population and Health as associate director and then director for nearly a decade. In 2022, she joined the Arnold School, which is already home to a group of nutrition researchers – some of whom focus on issues related to food insecurity and other public health challenges faced by low- and middle-income nations.
"What really drew me to the Arnold School is the school's track record in combining community-engagement with rigorous public health research, as well as my department's collaborative and interdisciplinary approach," Ghattas says. "I really enjoy having the opportunity to interact with experts from various backgrounds, hearing their perspectives, discussing commonalities and learning from their research and approaches."
"We are thrilled that Dr. Ghattas is part of our HPEB community," says chair Daniela Friedman. "She brings great expertise and leadership to our department and school. Her scholarship in food insecurity and nutritional and health status in global settings and regions experiencing conflicts and refugee crises is critical for advancing social determinants of health and health equity."