November 10, 2023 | Erin Bluvas, bluvase@sc.edu
Nandita Perumal's passion for global health was sparked toward the end of her undergraduate program at McGill University in Canada. The nutrition major continued her focus on global health with a Master of Public Health in Epidemiology at the University of Toronto.
During the program, Perumal completed an international practicum experience that changed her academic trajectory and her approach to global health research. With funding support from a Canadian Institutes of Health Research's Michael Smith Foreign Study Supplement, she spent four months in Kenya working on an agriculture and health intervention to improve prenatal care during pregnancy.
"The project incentivized mothers to increase their vitamin A intake – which was often low in the Kakamega region – by providing them with sweet potato vines to grow at home," says Perumal, who joined the Department of Epidemiology and Biostatistics this fall as an assistant professor. "It was a sustainable solution that aimed to improve the health of the entire family, and this experience shifted my focus to global health inequities related to perinatal and pediatric health."
Continuing into her Ph.D. program at the University of Toronto, Perumal dug deep into the methodology used in studies comparing birth outcomes and pediatric growth. Once again supported by the Canadian Institutes of Health Research, her dissertation project used data from a cohort in Brazil to identify a major bias in the research that had already been addressed in clinical circles: the age of preterm children should be calculated differently than those who are born full-term as their birth weights and growth trajectories are significantly impacted by their gestational age at birth. By adjusting postnatal age to account for preterm birth, researchers can more accurately assess key indicators, such as stunting and wasting, when identifying population-level needs and interventions.
Eager to translate her knowledge and gain some applied experience as well, Perumal accepted a postdoctoral fellowship in global perinatal epidemiology and nutrition at the Harvard T.H. Chan School of Public Health. One of the projects she worked on involved generating estimates of potential gains in human capital (e.g., number of school years completed, increases in lifetime income) if certain prenatal nutrition interventions were scaled up. Perumal also studied the long-term neurodevelopmental outcomes of kids born at varying gestational ages and birth weights in Tanzania. This project, which was also funded by the Canadian Institutes of Health Research, led to other Tanzania-based projects supported by the Thrasher Foundation and the Bill & Melinda Gates Foundation.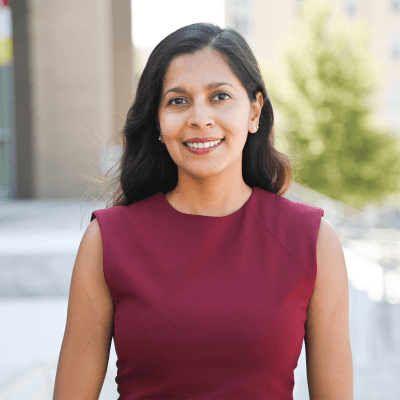 Immersing herself in the culture and daily lives of the populations she studied has become a hallmark of her research – despite the frequently available and certainly more convenient – option to complete her work remotely. One of the reasons this approach is so important to Perumal (and the students she mentors) is her commitment to allyship in global health.
"Researchers who go into low-resource settings to support efforts to improve a local community's health must be intentionally mindful of our positions of power and privilege," Perumal says. "My international experiences have been humbling and formative for me, and I enter each new encounter with an ally mindset to see how I can best collaborate with and raise the voices of the colleagues, students and community members in the settings where I work."
Today, her research aims to improve maternal, newborn, and child nutrition, health and development in vulnerable populations. She does this by understanding the causes of adverse maternal and child health outcomes as well as the long-term consequences of adverse exposures in early life for health and development throughout the life course. Ultimately, her work uses the epidemiologic toolkit to generate new evidence and test novel interventions to improve population health.
She greatly enriches our expertise in several strategically important areas for the department and school, including global health, maternal and child health, and nutrition.

Anthony Alberg
At USC, Perumal is settling into her new role at the Arnold School with her first semester well underway.
"Dr. Perumal is an exceptional addition to our department," says Anthony Alberg, chair of the department of epidemiology and biostatistics. "She greatly enriches our expertise in several strategically important areas for the department and school, including global health, maternal and child health, and nutrition. Among the many strengths that make Dr. Perumal a difference-maker are her passion to advance global health through research that addresses important public health problems, takes place in the setting of community partnerships founded on trust, and is methodologically rigorous."
"What drew me to the Arnold School is the supportive environment and the diverse and interdisciplinary nature of the faculty and students," she says of her decision to join USC. "I'm looking forward to engaging students in perinatal and pediatric epidemiology through teaching and research, and to collaborating with faculty at the university to continue my research."