October 2, 2023 | Erin Bluvas, bluvase@sc.edu
Always interested in a career in health, Gaffney took her first public health course as a freshman at USC. She loved the class and changed her major to pursue a career in the field.
As an undergrad, Gaffney reached out to Arnold School faculty to gain research experience. Working with exercise science professor Michael Beets, she helped with community engagement efforts to combat childhood obesity. As a member of health promotion, education, and behavior associate professor Brie Turner-McGrievy's research team, Gaffney recruited participants for the Nutritious Eating with Soul Study.
"Public health focuses on the big picture, but I love to see the difference that it makes on both the individual and community levels," she says. "If I've helped just one person, I feel like I have done my job."
After graduating in 2019, Gaffney spent two years as a reproductive health educator at the South Carolina Department of Health and Environmental Control. She then completed a six-month contract position with the Centers for Disease Control and Prevention Foundation – working with Richland County schools as a disease intervention specialist.
"I took every opportunity to gain diverse work experience and really try to find my passion and niche in public health," she says. "My professional experiences have helped me feel confident in my decision."
A resident of Columbia since she was eight years old, Gaffney continues to discover new aspects of her community – making a return to USC for a master's degree an easy decision. In 2022, Gaffney enrolled in the Master of Public Health in Epidemiology with a focus on reproductive health and maternal and child health.
"My experience as a graduate student is very different from when I went here before, but in a good way," she says. "I love how diverse the Arnold School is and how students have so many unique interests and perspectives that they bring. I've loved getting to connect with other students and faculty members and have formed great friendships and relationships."
Gaffney spent the first year of her program as a graduate assistant with USC Student Health Services, focusing on sexual health and STI prevention. Over the summer, she completed a practicum with the Florida Department of Health where she contributed to research on the social and structural determinants of health that impact maternal and child health for Black Haitians in Collier County. Gaffney used qualitative and quantitative research methods to develop a Health Equity Data Analysis Report, which she presented to key stakeholders in the county.
This fall, she joined USC's Institute for Families in Society as a graduate research assistant with the maternal and child health team. Working with Ph.D. in HPEB alumna Sarah Gareau, Gaffney is working on projects to address low birthweight among infants, reduce birth inequities and advocate for increased doula care – all in South Carolina.
Within her master's program, Gaffney found mentors in graduate director Myriam Torres and reproductive health researcher/advocate Deborah Billings.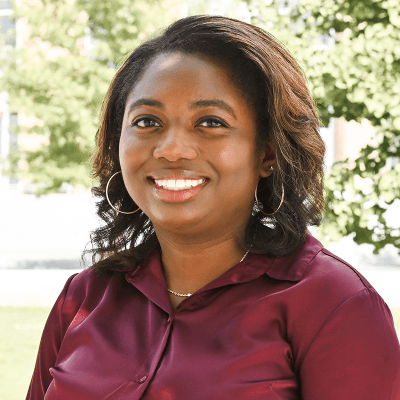 "Dr. Torres is very committed to the success of her students and has been there for me throughout my time in this program," she says. "Dr. Billings has also been an inspiration since we have similar interests within the public health field, and she has done so many incredible things and it is very clear that she loves what she does. I love being at a university where I am surrounded by so many accomplished public health leaders."
After graduating next May, Gaffney plans to pursue a position in reproductive health and/or maternal and child health. Whether at a health department or similar setting, she'd like to continue contributing to research projects and applying the skills she's learned through her program and work experiences. Ideally, Gaffney would like to use her epidemiological background to make an impact on both health policy and public health programming as well as advocate for better access to perinatal care and reproductive health services.
"I love working in the reproductive health and maternal and child health fields because South Carolina has poor outcomes compared to the rest of the country," she says. "I love getting to interact with members of the community and see the difference that my work can make and have a positive impact on other people."
---