April 11, 2023 | Erin Bluvas, bluvase@sc.edu
Originally from Athens, Georgia, Traci Williams moved to Columbia as a newlywed more than three decades ago. Most of the Department of Communication Sciences and Disorders' (COMD) Human Resources Manager's career has taken place in educational settings, where she has served as a teacher in public, private and home-school environments.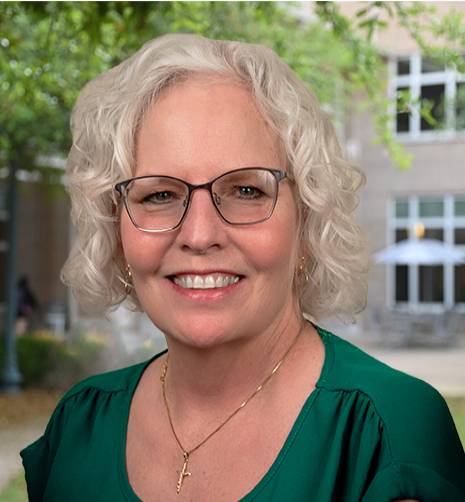 Two years later, Williams advanced to administrative coordinator – expanding her responsibilities related to continuing education, human resources and budget/finance activities. Just one year after that, she was promoted to her current role as human resources manager for the department.
With the exception of hiring faculty members – which is handled at the school level – Williams' role involves all other human resources activities for the department. She handles summer compensation, scholarships/fellowship, tuition supplements, time/absence management and more.
"I have the amazing opportunity to hire new employees, such as students, staff, adjuncts and affiliates, and to interact with them regularly," Williams says. "I get to speak with many great people who are passionate about what they do daily, and that is an incredible blessing."
She has also continued her role as the administrative coordinator for chair Jean Neils-Strunjas and the department. Williams loves that this position provides even more opportunities to engage with faculty and students, such as managing the department calendar, assisting with accreditation, record maintenance, and ordering textbooks.
"Traci Williams is the heart and soul of the Department of Communication Sciences and Disorders," Neils-Strunjas says. "She has developed an expertise in human resources and hiring procedures that allows her to work with April Davis in the school office to facilitate faculty, staff and research hires in a timely manner."
For her part, Williams was initially shy and uncertain about how she would fit in at USC after homeschooling her kids for 27 years. She remembers keeping candy in her office as an ice breaker to start conversations – really wanting to get to know the people she was working with so she could serve them better. Her strategy worked, and she quickly became comfortable in her new work home.
"I love coming to work daily, often with no idea who I will meet or how I will be able to help," Williams says. "It is always an adventure. I could not ask for a better job or a better place to be every day."
The Staff Spotlight Series is sponsored by the Arnold School's Office of Diversity, Equity and Inclusion.