August 28, 2023 | Erin Bluvas, bluvase@sc.edu
Greenville, South Carolina resident Teresa Traffas was just up the road from USC when she decided to return to graduate school to become a speech-language pathologist. But her busy life was too full for a traditional, in-person program.
"I was looking for a program that had a long-standing, quality reputation," Traffas says of her decision to attend the Department of Communication Sciences and Disorders' M.S. in Speech-Language Pathology program. "The distance education track was something that I knew would make pursuing this degree possible since I was already at a point in life where I had many responsibilities besides school. I knew USC would prepare me to be a capable therapist and allow me the opportunity for any kind of specializing or doctoral work that I may become interested in as I worked through my graduate degree."
With a background that includes Spanish, nursing, website development and other skills and experiences, Traffas was drawn to speech-language pathology for several reasons. Observing other therapists revealed a career filled with creativity, variety and interesting challenges. She also liked that its combination of biology, psychology, education and medicine promised to keep her on her toes. Plus, she wanted to help people.
"I've always found caring for people to be so fulfilling," Traffas says. "Speech therapy allows me not only to care for people, but also to open opportunities for them."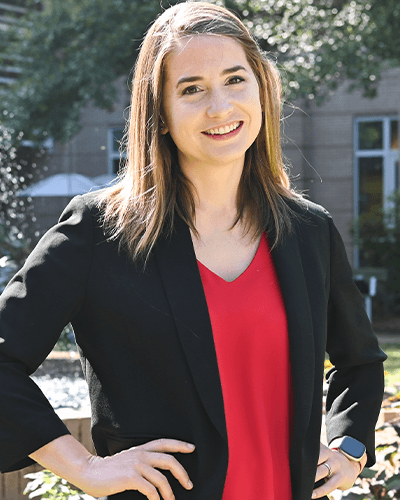 During her master's program, Traffas became interested in literacy – particularly among older children and adults as well as the connection between literacy and incarceration. She gained clinical experience in private practice, hospital and school settings.
As part of a tight-knit cohort, Traffas found support in her fellow classmates and the faculty who specialize in specific areas of the field. In particular, she found a mentor in graduate director Beth Barnes, who has continued to respond to Traffas' tough therapy questions long after classes ended.
Traffas' efforts resulted in her selection as the winner of her department's Outstanding M.S. - Distance Education Student of the Year Award. She graduates this month and plans to pursue a position in pediatrics, while still working with adults part time to maintain her skills in that area.
"Right now, I want to practice what it means to be a therapist and manage a caseload," Traffas says. "Then I plan to branch out into either research or a different setting if that seems like the best fit for me. I love working in short-term rehabilitation hospitals and hope that at some point that will be a part of my career journey."
---