April 26, 2023 | Erin Bluvas, bluvase@sc.edu
"I was fascinated with how exercise impacted physiology and how exercise could be used as treatment for a variety of diseases," Erin Kishman says of her introduction to public health during a clinical exercise physiology course.
The Michigan native was studying exercise science at Grand Valley State University at the time and decided to gain research experience in the department of movement science. At that point, she knew she had found her field. "The fact that I could make a positive impact on someone's health with my knowledge of exercise physiology motivated me to pursue research in this area," she says.
After graduation, Kishman attended Western Michigan University to complete a master's degree in the field. When looking at doctoral programs, the Arnold School's Department of Exercise Science caught her eye.
In addition to offering the No. 1 Ph.D. program in the nation, the department has a high level of research productivity and is housed in a school of public health. It also offered the chance to work with associate professor Xuewen Wang, whose research in the Human Metabolism Lab examines the effects of exercise and sleep on energy balance, body weight, body composition and cardiometabolic outcomes.
"Dr. Wang has helped me grow tremendously as a researcher, and she is always willing to help but also gives me independence to learn on my own," she says. "Her confidence in me has helped my own confidence grow as a researcher. I am grateful that I have been able to work with her for the past five years as her mentorship has prepared me to leave this lab and be successful wherever I end up."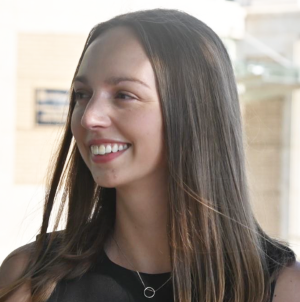 Kishman's own research has evolved to focus on the 24-Hour Activity Cycle, which includes sleep, light physical activity, moderate-to-vigorous physical activity and sedentary behavior. She is particularly interested in how these phases impact cardiometabolic outcomes. For her dissertation project, Kishman studied the relationship between the activity cycle and health outcomes among postpartum women.
The Norman J. Arnold Fellow has presented her work, including a project she supported with a Support to Promote Advancement of Research and Creativity Grant from the USC Office of the Vice President for Research, and collaborative lab research at scientific conferences and has published findings in peer-reviewed journals. She also served as a graduate assistant in the Clinical Exercise Research Center and as a teaching assistant, where she found another mentor in clinical assistant professor Jennifer O'Neill.
"Dr. O'Neill generously spends her time showing me the ins and outs of teaching, so I am prepared to teach a course on my own in the future," Kishman says. "She is always encouraging and supportive of me, which has been great to have during my Ph.D. program."
After graduating in August, the Outstanding Ph.D. in Exercise Science Student award winner will put her research and teaching experience into practice with a career in academia. Before pursuing a tenure-track appointment, she plans to gain additional experience studying sleep and circadian science with a postdoctoral fellowship.
"Find a mentor whose work aligns with your interests, but also be open to exploring areas you haven't thought of," Kishman advises students interested in a similar path. "Sleep research is not something I thought I would be doing before I started my Ph.D., but now I love it and want to continue in this area."