August 23, 2023 | Erin Bluvas, bluvase@sc.edu
Clinical associate professor Kara Montgomery has dedicated her entire 33-year career to higher education, with nearly three decades spent right here at the University of South Carolina. The daughter of physicians, Montgomery initially carved her own path outside of health care – studying English and telecommunications at the University of Miami with a full scholarship. But Montgomery's next steps would steer her toward academia – and eventually public health.
"I went to the career center and learned that I was best suited for K12 or higher education," she says. "Then I went to a breakfast sponsored by the National Association of Student Personnel Administrators, where they described the characteristics of individuals who would be good candidates for the field. I felt like they were talking about me."
While prepping to apply for graduate programs, Montgomery spent the year after her bachelor's graduation as a residence all director at the College of Charleston and interning with The Citadel's athletic department in her hometown. Supervising six resident assistants and the services/programming for 300 students cemented her passion for working in academia, and she enrolled in USC's Master of Education program with an emphasis in student personnel services and student affairs administration.
The next two years were a whirlwind, with Montgomery taking extra courses and serving as a front-line campus judicial officer. Once again a hall director, she now found herself supervising 15 resident assistants and more than 600 (mostly freshman) students.
"Those two years at USC are where I fell in love with working with undergraduates on our campus," Montgomery says. "The higher ed program was amazing, but I also kept feeling a pull toward public health."
A closer look at her childhood reveals Montgomery's passion for health as well as the service orientation that has made her so perfect for her role at the Arnold School. In addition to her parents' vocations, her youngest of four brothers experienced many health challenges during his youth.
"He had three throat reconstructions and 80 surgeries between the ages of two and 11," Montgomery says. "It was so hard on my parents because they couldn't help him, even though they were physicians. I think it was this experience that really helped me build the resiliency and empathy I needed to work in public health and in higher ed."
After her 1993 graduation, Montgomery spent the next three years at the University of North Carolina Wilmington – serving as a residence coordinator, academic advisor, and health promoter/organizer for the Hundley Wellness Promotion Center. But USC kept calling her home.
Montgomery returned in 1996, enrolling in the Doctor of Public Health in Health Promotion, Education, and Behavior (HPEB) program, where she conducted research on female and minority health alongside then-HPEB chair Donna Richter. She also served as a graduate assistant for USC Athletics – educating student-athletes about nutrition topics and screening them for eating disorders. This role fit perfectly with her interest in disordered eating in athletics that was sparked during her first doctoral course.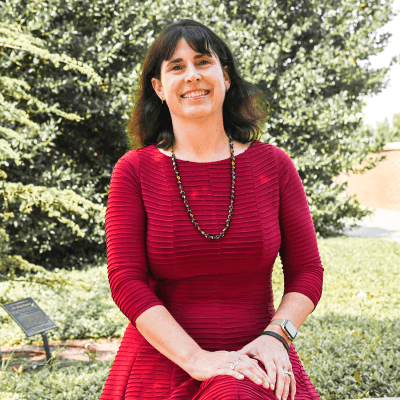 "The class was called Applied Aspects of Human Nutrition, and it was taught by Roger Sargent," Montgomery says. "I ended up doing research with him in this area – and eventually taught the course myself. Roger was a wonderful guide and continues to be an important mentor to this day."
At the turn of the century, Montgomery was not only a student but had accepted a newly created position as the life skills coordinator and academic advisor for USC Athletics. She also began teaching University 101 and various public health courses and never stopped. By 2002, she had fully moved over to the Arnold School, teaching and advising public health students as a program coordinator/lecturer.
Since 2005, Montgomery has worked in student services and taught public health and HPEB courses. When the Arnold School launched its public health bachelor's degree programs over a decade ago, Montgomery helped clinical associate professor Sara Corwin, who served as director and then the inaugural associate dean for all undergraduate programs, make it happen.
"Dr. Montgomery's expertise in student affairs, academic advising, athletics and teaching has been – and still is – why our B.S./B.A. public health degrees grew exponentially and maintains best practices in providing student centered services," Corwin says. "Unequivocally, the Arnold School undergraduate programs would not be successful without Dr. Montgomery."
"I love working with undergraduate students," says Montgomery, who advises 100-150 students and teaches one to three courses at any given time. "One of the constants throughout my career has been to help students be their best in the classroom and outside of it. Teaching and advising have made this possible."
Montgomery's students agree. She's taught thousands over the years, and countless numbers of them would line up to sing her praises. In fact, many of them have and do.
"Even before Dr. Montgomery was advising me; she made me feel smart, cared for, and legitimately excited about every individual's prospective journey through their undergraduate careers." ~Isabel Stringfellow, B.S. in Public Health '22
"It is easy to feel overwhelmed and unimportant in a large college setting … but Dr. Montgomery always had a way of 'calming the storm' for me and guiding me in a way that was individualized and specific to my needs as a student." ~Julia Vincent, B.A. in Public Health, '17; MPH, '21
"I have seen firsthand the attention to detail Dr. Montgomery has caring for students, and the immense understanding she possesses to overcome obstacles when students plans inevitably change." ~Matthew Thomas, MPH '20
"Dr. Montgomery is able to see exactly what each student brings to the community, and her approach to both teaching and advising involves finding and using a student's unique strengths to help them overcome their struggles and develop a positive self-concept in preparation for a professional career post-graduation." Arslan Valimohamed, B.S. in Public Health '19; J.D. '23
"I faced a lot of adversity during my time here at the university and one thing that I could count on from Dr. Montgomery was to make sure that my physical and mental well-being was in good standing before we focused solely on my degree progression. This alone speaks to her sense of compassion and realism not only as an advisor but as a human being." ~Tianna Williams
"I am incredibly fortunate to have crossed paths with Dr. Montgomery during my time as a student at USC, and … I look forward to seeing the impact she will continue to make in thousands of Gamecocks' lives." ~Zachary Travis
Montgomery takes all this feedback to heart. She uses it as fuel to give every student, every appointment the same energy and commitment as the one before and the one after.
"There is not much that is more fulfilling than to receive a text or an email or phone call from an advisee who has just been accepted to their dream school or who has been admitted to a competitive summer programs," she says. "I save the thank you notes I receive from students not only to brighten my day when needed, but also because seeing them is a visual reminder to keep doing what I have always tried to do, treat each student with respect and kindness."
---