August 9, 2023 | Erin Bluvas, bluvase@sc.edu
Cassidy Lena had long been interested in public health when she enrolled as a student at the Arnold School. She appreciated its focus on prevention and equity.
"Something I love about public health is how it is incorporated into almost every aspect of our lives," Lena says. "Within this field, social determinants of health, advocacy work, health promotion education and behavior, and maternal and child health are areas I love to work in."
Just as she was beginning her studies at USC, the COVID-19 pandemic began – confirming her commitment to the field.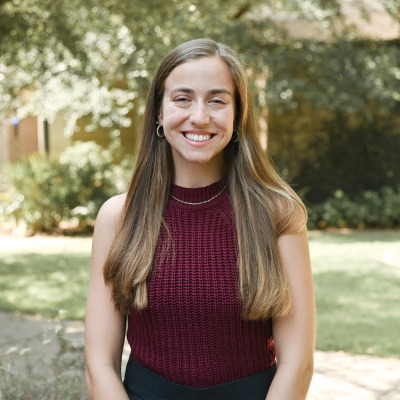 "Seeing the devastation that the pandemic brought, as well as the many realizations but also moments of unity, further solidified my passion for public health," says Lena, who also discovered the field of genetic counseling and its intersection with public health prevention efforts during this time. Helping individuals and families understand their risk for specific genetic conditions and disorders appealed to her, and she built on her public health background by volunteering and gaining experience in the field.
The South Carolina Honors College (ranked No.1 in the nation among public universities) student also became involved with various groups, such as the Advocates Against Alzheimer's club, the Public Health Society, and the South Carolina Center for Rural and Primary Healthcare. The U.S. Figure Skating Gold Medalist also continued practicing and coaching the sport she has participated in since first grade. Lena put her Spanish minor to good use by participating in the Global USC Costa Rica Maymester Program and completing a medical internship in Peru through Volunteers Across the World.
As a member of the Maternal and Child Health (MCH) Leadership, Education, and Advancement in Undergraduate Pathways (LEAP) Program, Lena explored the MCH field – even analyzing Medicaid policy impacts on maternal and infant outcomes in South Carolina for her Honors Senior Thesis. Through the LEAP program, Lena was matched with faculty (Epidemiology Clinical Associate Professor Myriam Torres; Associate Dean for Diversity, Equity and Inclusion Toni Torres-McGehee) and peer (Health Promotion, Education, and Behavior (HPEB) Doctoral Student Rochelle Altman) mentors.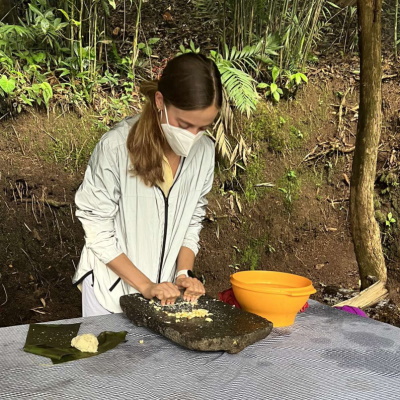 "Dr. Torres was incredibly encouraging in my endeavors during my time at USC and helped me understand the role epidemiology plays within the field of public health, and Dr. Torres-Mcgehee's experience, knowledge and eagerness to help get you where you want to be is unmatched," Lena says. "Rochelle was the best peer mentor I have ever had, and having someone who was also in the thick of schoolwork and life to talk to was immensely helpful during my senior year."
She also found a mentor in HPEB clinical associate professor Edena Guimaraes, who taught some of Lena's first courses at the Arnold School – including global health. Along with Torres, Guimaraes led students during the Costa Rica program, teaching the group about difference in public health practices, social determinants of culture on a global scale.
"Dr. Guimaraes' passion for public health and willingness to help every student was prevalent through her teaching," Lena says. "I am incredibly grateful for her as I wouldn't be in the position I am today without her guidance".
Now that the May graduate has returned from Peru, she will begin her master's program in genetic counseling at the USC School of Medicine Columbia this fall. After becoming a certified genetic counselor, she plans to work in prenatal, oncology or pediatrics at a hospital system. She is particularly interested in supporting rural and/or maternal populations.
"I would love to also devote my time to improving social determinants of health," Lena says. "Long term, I'd like the idea of going abroad to work in clinics with the hope of bringing genetic counseling to other countries too."
---