May 3, 2023 | Erin Bluvas, bluvase@sc.edu
With a talent for numbers, Andrea Danielle Brown initially planned a career in mathematics while earning her bachelor's degree at Spelman College. A mentor helped changed that path to public health when she guided the Beaufort, South Carolina native through her first research experience. Together they analyzed condom use among Black female college students, taking the steps to form a research question, collect data and apply mathematical modeling to a health-related problem.
"As a mathematics major at the time, I was excited to see that my skillset could be used for such work," Brown says. "My mentor recognized that I had a passion for this type of research and suggested that I apply to public health graduate programs and connected me with public health professionals and summer internship opportunities. I am so grateful for the guidance and support that I received from her during those early years."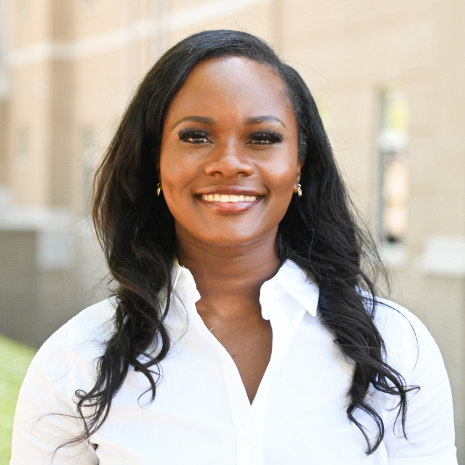 After completing a Master of Public Health in Epidemiology at nearby Emory University, Brown stayed in Atlanta for another three years to gain experience at the Centers for Disease Control and Prevention. There, she served as a scientific data analyst and project coordinator for the agency's division of HIV/AIDS Prevention.
When looking at doctoral programs, returning to South Carolina to attend her state's flagship university offered the best fit. Brown was attracted to the quality of education, opportunities to conduct research on a variety of public health topics and the availability of fellowships and training programs.
"I believed that attending the Arnold School of Public Health would support my growth within public health research and future career endeavors," she says.
At USC, Brown participated the Behavioral Biomedical Interface Program – a National Institutes of Health-funded predoctoral fellowship that offers interdisciplinary training in epidemiology, exercise science and psychology to better prepare the next generation of behavioral scientists. She also gained experience with the Healthcare Innovation and Improvement Division's Data Science team/Business Analytics group at BlueCross BlueShield of South Carolina and served as a research assistant for epidemiology professor Angela Liese's examination of diabetes among youth.
"Dr. Liese has provided me with opportunities to conduct research with colleagues from various departments and institutions, and to present my research at several conferences and talks," Brown says. "She has helped me gain confidence as a researcher, has provided me with great advice and feedback for tasks, and has shown through example how to effectively lead a team toward common goals."
Brown has refined her own interests to focus on relationships between food insecurity, social needs and mental health among youth and young adults with diabetes. After graduating with a Ph.D. in Epidemiology in May, she will return to the CDC to begin a two-year fellowship as an Epidemic Intelligence Service Officer in the Division of Reproductive Health's Maternal and Infant Health Branch.
"I am excited to learn more about public health surveillance evaluation and to work on a variety of new projects within this position," Brown says. "Long term, I want to continue to work for the federal government as an epidemiologist or other leadership position. I would also like to write a grant and receive funding to lead research aimed at improving access to social needs within communities."