November 17, 2023 | Erin Bluvas, bluvase@sc.edu
Honors College students Anusha Ghosh (Accelerated Undergraduate to MD Program with concentrations in public health and Spanish) and Muskaan Makkar (public health) and Capstone Scholar Hima Vadlamani (finance) are the 2023 winners of the nationwide Tulane Health Policy Case Competition, which invited undergraduate students to propose solutions to New Orleans' homelessness crisis. The trio each won $1,000 in cash and an offer of a $10,000 scholarship to attend Tulane's Master of Public Health program with a health policy concentration.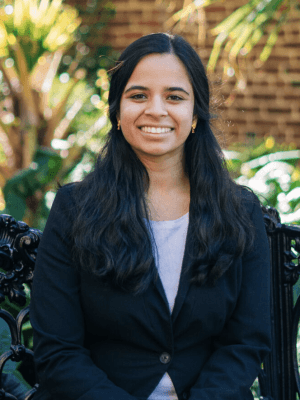 "Case competitions are typically associated with just business majors, but having the opportunity to tackle the real-world issue of homelessness in New Orleans allowed us to view the field of public health in a more analytical, constructive manner," Ghosh says. "We were able to grow our capacity to work as a team - a necessity for the interdisciplinary and interconnected field of public health. For all of us, it was a unique and exhilarating experience in which our strengths complemented each other extraordinarily well," Makkar adds.
The daughter of immigrants, Ghosh is committed to addressing health care inequities and has tailored her undergraduate program to focus on health policy and management. Following her 2024 graduation, she will learn how to improve patient-physician relationships and address public health issues through a clinical lens as a medical student at the USC School of Medicine Columbia.
Makkar became passionate about health care reform after learning about the American insulin crisis and the barriers to access that stem from the nation's complex health care and insurance systems. To learn more, she completed a public policy internship with Civica Script and plans to pursue a graduate degree in the field after graduating in 2025.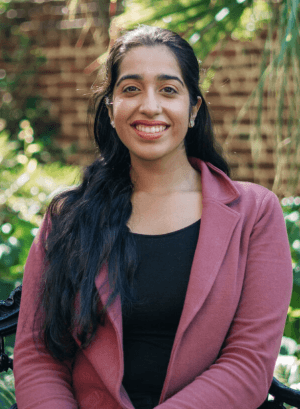 Both Ghosh and Makkar are undergraduate research assistants in the Arnold School's Department of Health Services Policy and Management. They work closely with Christina Andrews on the associate professor's two National Institutes of Health-funded projects aimed at understanding Medicaid coverage for mental health and substance use disorder treatment.
Vadlamani, who is enrolled in a dual program with the ESSEC Business School in Paris, already had experience with several case competitions through the Moore School. She was eager to combine her competition experience with Ghosh and Makkar's health policy knowledge to tackle a real-life public health challenge.
With the competition announced in early September, the next eight weeks were a whirlwind for the USC team. They had just 10 days between the release of the case details/prompt and the teams' zoom workshop and then another 10 before their proposals were due. Finalists shared their presentations with a panel of judges just a few days later – sharing their proposals for how to best design a policy package that would offer a sustainable solution to the New Orleans' homelessness crisis using $50 million over a ten-year period.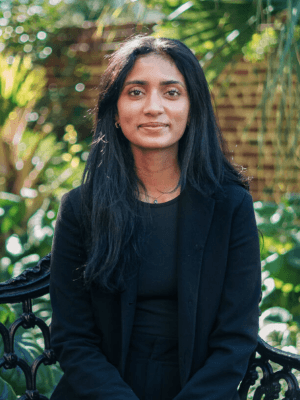 Ghosh, Makkar and Vadlamani emerged as the winners from among the 88 teams and 264 participants that competed this year. After assessing the problem from multiple angles, the team proposed 1) establishing a shelter database with real-time availability 2) employment assistance through the strategic placement of career coordinators and 3) developing private housing by leveraging unused school buildings. Their proposal also addressed barriers to success, outlined logistics and evaluation metrics, and discussed budgets, key stakeholders, and other elements essential to the success of the project.
They recommend seeking the support from local leaders and learning about the experiences of various stakeholders to truly understand the challenges faced by a community when attempting to develop solutions. The team also emphasizes the importance of ensuring that all statements are supported by data and to work toward truly feasible solutions that enhance existing systems and resources. Finally, they offer their advice and support to others interested in participating in a future health policy competition.
"I am thrilled to see this talented group of students receive national recognition of their high potential to make important contributions to the field of health policy," Andrews says. "Frankly, I am not surprised by their success, given the incredible work they have done on my research team examining complex health policies for low-income Americans struggling with addiction."
Photo credit: South Carolina Honors College
---